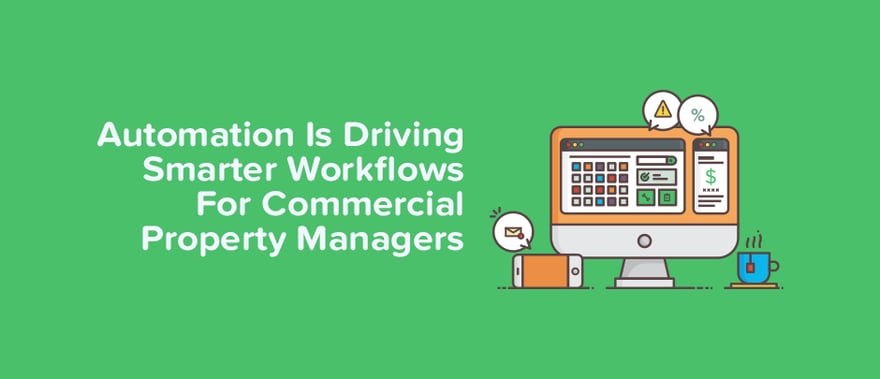 Automation Is Driving Smarter Workflows For Property Managers
Re-Leased 07 November 2017
We all have workflows we go through on a daily basis to ensure we're on top of our responsibilities. As property managers, the number of these separate processes can become overwhelming.
Property managers are demanding more
Consider the number of applications, websites, and spreadsheets that are opened each morning – chances are you're spending countless hours every week on separate tasks, adding up to days every month, using archaic processes not fit for 2017.
Manual processes are often inefficient processes; impossible to track on a large scale and can even introduce unnecessary risks to your business. In an age where automation success stories are everywhere, it's crucial that the property management sector is also taking advantage of the tools out there to drive smarter, more automated workflows.
Mitigating risk through the use of one centralised, cloud-based solution affords you more time to focus on growing your commercial property business.
Using best-of-breed automation to drive smarter workflows is a powerful and technologically disruptive approach to commercial property management that cannot be overlooked.
Are manual processes killing your workflow?
Manual processes are incredibly costly to property managers, especially in terms of time and accuracy. As a commercial property manager, you should be asking yourself:
How efficient and accurate is it to track progress using To-do lists, Post-its, emails and calendars? How much of your day is spent planning what you need to do instead of getting it done?
How often are you completing repetitive tasks? Do you have to fill out tenancy agreements every time a new tenant moves in? Are you manually creating all invoices and populating the necessary information before sending? How long do these processes take?
Time-saving is not the only reason to embrace the automation of your workflows. Manual processes are neither scalable nor repeatable, so if a staff member leaves your business, they take that knowledge of the manual process with them. By automating workflows, you remove the need to bring new staff up to speed on multi-step, manual processes.
It is also increasingly difficult to track manual processes as property portfolios grow. Understanding the current status of tasks is hard to do when multiple manual processes exist – and even more so when information is scattered amongst multiple team members.
By employing technology to perform mundane, repetitive tasks you can massively reduce the risk of human error, freeing up time for property managers to solve problems that require a human brain!
All of these processes can be tracked and stored in a centralised system that enables team members to work together in a unified way, ensuring that they never miss an important task or event between each other.
Property managers who make the shift to using automated systems have the assurance that critical tasks are being completed on time and that their business is running efficiently. Time saved by automating manual tasks relieves workload on staff, freeing up their time to add value to the business.
Fortunately, there are tools that you can use throughout your business to give you this assurance and efficiencies. Check out Receipt Bank, Xero, VTS.
Think like a smart commercial property manager with automation
Technologically disruptive processes can drastically change the success of a property manager and their business by mitigating risk, increasing their available time to focus on other areas of the business and by providing a superior experience for their owner clients.
By making the shift to automated workflows, real-time data becomes the heart of your property management system, providing the most up-to-date information on every tenancy and property across multiple portfolios. This real-time data enables you to fully audit your or your owner client's business in an instant, providing everyone with the insights needed to fully value their business.
Automated workflows within a centralised, cloud-based system enable you to:
Save time by removing inefficient, arduous tasks
Communicate across teams
Mitigate risk by centralising your data securely in the cloud
Understand the true value of your clients' businesses by centralising all financial information
Provide real-time data and insights: view data in the morning, make decisions in the afternoon
Give yourself peace of mind with automated task creation and reminders
A smart property manager demands one centralised management system to manage all of these tasks and processes for themselves and their team. Automation technology is now very real and incredibly accessible, can you afford to continue ignoring it?
Here, at Re-Leased, we're proud of the work we're doing at the forefront of automation, helping property managers work better and work faster. At the same time, we're always looking to learn more about the industry, and we love to chat about it; a lot. So take a look at what we're doing and, if you fancy, drop us a line and we'll grab a coffee.