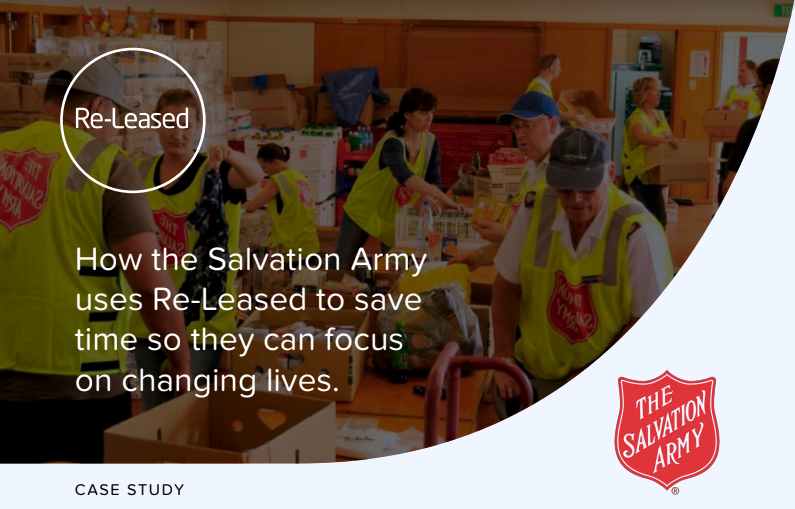 How the Salvation Army Uses Re-Leased to Save Time So They Can Focus on Changing Lives
Re-Leased 24 August 2018
For an organisation like the Salvation Army, time is scarce. Spending too much time on administrative tasks takes resources away from what really matters – and that's changing lives.
For the Salvation Army, managing their properties on traditional systems wasn't working. They needed a modern solution that is agile and can adapt to their requirements.
We're extremely proud to service the Salvation Army, so we spoke to Vesna Wells, their New Zealand's National Property Services Manager, about how Re-Leased has helped her and the wider team save time and focus on the task at hand.
How do you use Re-Leased?
We use Re-Leased to manage our leasing arrangements – mostly its family stores where it is a tenant using the space. There are some properties that lease themselves.
Prior to using Re-Leased, how did you manage your portfolio?
We went from using spreadsheets to manage our leasing arrangements through Re-Leased. Those spreadsheets have now all been retired with the implementation of Re-Leased.
How has Re-Leased changed the way you operate?
Re-Leased has revolutionised how we run our leases – from tenants knowing when the renewals are coming up, or as an owner knowing when to engage in discussions with the tenant, all of this information comes up as reminders, which we did not have in our spreadsheets.
We are able to advise our territory and regions of all leases and their renewal dates and/or end dates. We enjoy using Re-Leased, a cloud based system that is intuitive, and easy to use from a end-user perspective. We need very little support from Re-Leased as it is a well thought-out software that is catered to the end-user.
How was your experience of setting up Re-Leased?
Re-Leased were excellent in their implementation of our data and worked with us to ensure that we understand the software and had good training to be empowered to use it ourselves. What I would say is thank you Re-Leased for your support and care in assisting The Salvation Army.
Visit our blog for exclusive content covering the commercial property management industry. Click the button below to dive in.