What's in Store for Commercial Landlords and Investors in 2019?
Re-Leased 04 February 2019
We covered in 2018 that landlords need to get technologically smarter to get the most out of their portfolios: this relates to activities that do well to retain high quality tenants in the long term and those that increase rental yields, too.
In our 2019 commercial real estate outlook piece for managing agents, we look at what key industry reports and authoring pundits are forecasting for the year ahead. So what's in store for global landlords?
We know that there continues to be a keen eye for value-add investments and activities that allow for more active, agile technology pivots as the global economy experiences natural changes.
Here's what the literature says...
According to Deloitte's 2019 Commercial Real Estate Outlook report, it's clear that PropTech software solutions that allow landlords to streamline their operations are engaged at a higher, more considered rate by portfolio-building landlords. This is important for commercial real estate agencies to take note of in an effort to further scale, but what does this mean for global landlords?
Due to the widespread adoption of PropTech software solutions, data is more accessible than ever before and scalability is no longer as tough a task as it once was. Take this for data: a whopping 9 in 10 landlords acknowledge the end-to-end influence that PropTech platforms will have on the industry landscape.
"For commercial property management agencies that don't invest in PropTech...there lies notable shortfalls in their service offering: deficiencies in speed, agility, adaptability, and most pronounced, scalability."
Deloitte's report outlines that commercial real estate (CRE) management companies – or property managers and managing agents – should become knowledgeable about PropTech, or even should ideally run their property management operations through a software platform that manages maintenance tasks and property accounting tasks.
Commercial property management agencies potentially risk losing business if they don't invest in PropTech platforms
What's interesting to note for landlords moving forward in 2019 is that there is a relatively high number of property management companies that aren't engaging with (or adopting) PropTech platforms, and that's a cause for concern when looking to engage in a partnership with managing agents.
Instead, what landlords should actively do is pursue technologically savvy commercial property management agencies that can align with an adaptive and digital owner mindset. A strategic alignment is crucial.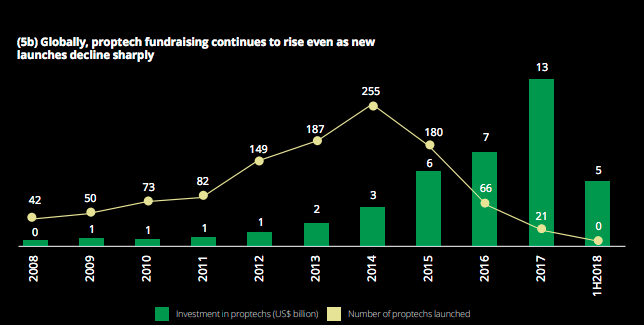 Image via Deloitte's 2019 Commercial Real Estate Outlook
For commercial property management agencies that don't invest in PropTech to manage their owners' properties, there lies notable shortfalls in their service offering: deficiencies in speed, agility, adaptability, and most pronounced, scalability. PropTech platforms can no longer be viewed as a nice-to-have – they're now an organisational necessity, and must be part of CRE business plans moving into 2019 and beyond.
Okay, so how is the commercial property market looking?
Due to declines in regional residential markets – such as Australia's recent housing prices dip, as an example – investors are looking more towards putting their money into commercial assets. For investors who may have sought after medium-high density developments as key investments to round out a portfolio, it's solely commercial property that is now swaying their allocation of dollars and cents.
Tighter credit conditions are also affecting the wider investment market but industrial real estate is best weathering the storm. And other asset classes, such as retail, is taking a noticeable hit as the digital economy continues is evolution across B2B and B2C markets, according to reports.
The Australian region had its biggest year in history for commercial property, and the numbers are reflected in reports of shopping complex giant Westfield's sale for over $30 billion. The commercial real estate market down under continues to be a globally attractive destination to acquire property, which is a healthy sign for international investors looking to capitalise now. And globally speaking, as we shine a light on the US market, strong economic conditions are set to solidify all of its commercial real estate asset classes.
How are key asset classes forecasted to perform for the year ahead?
It's been widely noted by industry pundits that universal e-commerce growth will lead to a steady decrease in the take up of direct retail space, as previously covered. A lot of B2C businesses are weighing up the running costs of committing to a physical retail shop front up against the modern alternative – that being warehouses and storage facilities to house inventory.
And this is directly due to the rise in online shopping by consumers. So while retail shops may be viewed differently by those in the commercial real estate industry, this has led to a net positive increase in another asset class. It's worth noting the requirement shift across the CRE landscape.
On the contrary, this doesn't necessarily mean that brick and mortar shopping facilities will fall entirely out of favour for investors and business owners alike – all this sentimental shift means is that landlords will have to rethink the way they view longevity and sustainability with their target market. Ultimately, there's an argument to be made for a healthy brick and mortar asset if all the right moves are made.
What are the final thoughts?
Ultimately, being competitive in the commercial real estate market will trump all activities and initiatives – this means that thinking and then doing things differently is the key differentiator for investor success. Remaining stagnant will fail to produce results.
This means that global CRE investors need to be proactive in their research and implementation of digital strategies, including the following key points of attention: harnessing data for growth, recognising trends early and investing accordingly, as well as sound information management through the continued adoption of PropTech platforms to do better business.

Are you in the UK and want to know more about the management of VAT? Here's how to make your tax digital...